(13037873) BE1380 –

  Cityspace

Edit
Location & Character
Edit
Cityspace is located just a few minutes west of Sunderland city centre at a site where there was already a university building. I could not find any information about the ground conditions at the site so I can't comment on that. I also don't know how they acquired their materials for construction but I know there are a lot of vendors that will sell concrete, wood etc. Locally to minus costs for the transportation of materials. There are also a lot of main roads near the site that can accommodate large vehicles, also as you can see on the image the site also has access at the top right which can allow the accommodation of equipment and vehicles for better ease of access. This building doesn't match its surroundings at all and sticks out like a sore thumb which I like because it maes the bilding stand out and become iconic in Sunderland almost.
External Space
Edit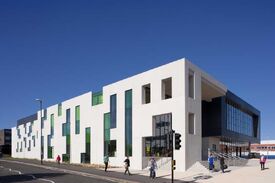 This building doesn't build into the landscape like some other buildings but it has been built in context of the site. I think the design of cityspace, which is a very modern design, fits perfectly within the area. It's not too flashy like a Zaha Hadid building and not too bland like a simple brickwork building, I think that the people who live or work around the cityspace would appreciate the design of the building and its southern facade.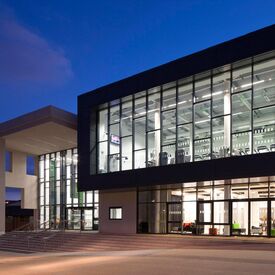 Cityspace has two entrances, the first one (on the right) is the entrance to the lobby of the building and from there you can navigate your way to the other areas of city space. The other entrance on the left opens to offices and some sporting equipment. The entrances are clear to see and are big enough to manage the amount of foot traffic they receive on a daily basis, they also allow access for disabled people. I couldn't get a good birds-eye view picture of the pavement in front of these entrances but there is enough room for numerous large vehicles to drive through and plenty of room for students.
Geographical Features
Edit
I can't talk about geographical features like ribbon development in this case as this a public building and not housing. However I can talk about how cityspace is located only a few minutes from the city centre (practically the city centre) and beside a university building that was already there. I think they built cityspace where it is because they might have owned the land already and building a university building in the city centre is the perfect place because it will be near a lot of public transport links for the students and means the students and staff are close to many other activities they could participate in throughout the day and when they finish for the day.